Ayres Family Story
A Proud Legacy Begins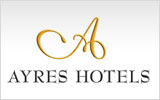 In turn-of-the-last-century California, well before Hollywood's glory days, climate and oranges were the main attractions. A $2 train ride brought visitors by the thousands to the Golden State. Many stayed. Among them was Frank H. Ayres, who had come from Ohio with his wife and young son Donald to explore land development opportunities. After successfully buying eight small ranches in the Mid-Wilshire area for his Ohio employer, Frank formed his own company—Frank H. Ayres & Son—to develop land throughout L.A. County. It was 1905. And a proud legacy—a bona fide family tradition—had begun. The Ayres' brand of high-quality property development would soon make its mark on Southern California.
Roaring On
In the roaring '20s, movie making had become a full-fledged industry. Demand for lots and homes rose sharply. In response, Don Ayres, Sr. entered the family business. This father and son team increased productivity while perpetuating the family tradition of quality, value and service. Along the way, Ayres' perseverance and foresight had become the foundation of entire communities in the Los Angeles area.
Ayres Builds Its Reputation In Homes
World War II was over and the housing boom was on. In 1957, Don Ayres, Jr. joined the firm, launching homebuilding interests by developing subdivision communities, further perpetuating a family tradition of quality land development. Combining versatility and innovation, the company was now poised for exponential growth in a variety of endeavors. In the coming decade, the Ayres brand would become a recognized name, creating distinctive homes in well-planned areas stretching from the San Fernando Valley to San Diego.
Ayres Builds Its Reputation In Hotels
Don Jr. developed the concept of a European boutique hotel after a trip to Europe with his daughter in the early 80's. Homes by Ayres was now a trusted name in homebuilding and Don Jr. began to apply its time-tested, success-proven formula to satisfy the growing need for hotels. The company opened its first property in 1984. Since then, Ayres has continually adapted to the ever-changing needs of the marketplace without losing sight of the importance of friendly service, cleanliness, and value in the Ayres brand of hotels.
The first hotels the Ayres family developed were called Country Inn and Country Suites and, in 2001, they were rebranded the Ayres Hotels. Today, Ayres Hotels develops, manages, and owns hotels known as Ayres Inn, Ayres Inn & Suites, Ayres Hotel & Suites, Ayres Hotel, and Ayres Hotel & Spa. All of the hotels are widely recognized for their value, quality and comfortable surroundings. The unique combination of luxury and ambiance draws guests to this growing family of hotels. From European boutique elegance to home style comfort, each has a personality and charm that is uniquely Ayres. Inviting lobbies adorned with beautiful fireplaces, hand selected antiques and classic art prints are just a few of the special touches you can find at the Ayres Hotels. No expense is spared to make you feel special. Our guestrooms combine Old World charm with the new world service of an attentive staff and every modern convenience.
The Family Tradition Continues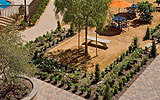 Today, the Ayres family tradition of quality and value is stronger than ever. It ensures that every Ayres hotel is expertly designed and managed with excellence and meticulous attention to every detail. Through steady growth, Don Ayres Jr. has made certain that every aspect of hotel ownership and management receives un-matched attention.
Allyson Ayres, Don Jr.'s daughter, brought her interior design talents to the new hotel venture while his son, Don Ayres III, built operations. Their brothers, Bruce and Douglas, spearheaded new hotel development, raising the Country Inn and Suites concepts to the grand levels of Ayres Hotel.
Today, Bruce Ayres, Don Ayres III, Douglas Ayres, and Allyson's husband, Bruce D'Eliscu, are actively leading new projects while ensuring that the existing hotels are well maintained, the team members committed to exceptional service, and that everything is running smoothly.Janet Ayres, wife of Don Jr., now leads design and quality programs that keep the hotel collection a unique blend of the traditional and the modern.
Others on the executive team, including seasoned hotel and real estate professionals James Roos, President, Gregg Kleminsky, Vice President - Controller, and Tom Asnon, Chief Financial Officer, help manage daily operations and administrative matters. Setting Ayres Hotels apart is the fact three generations of the Ayres family are involved every day, acquiring sites, entitling projects, managing construction, decorating interiors, checking breakfast, inspecting guest rooms, and greeting clients and guests. From pioneering subdivisions of homes to building prestigious residential communities, the firm founded by Frank Ayres has been widely recognized for its industry firsts. For nearly a century, the Ayres name clearly demonstrates a reputation for ingenuity, persistence and planning unsurpassed in Southern California.
To this day, Ayres projects draw upon the vast knowledge and experience of four generations of family business. And as long as the Ayres family strives to meet the changing needs of its customers, the opportunity for continued expansion will always be within reach.